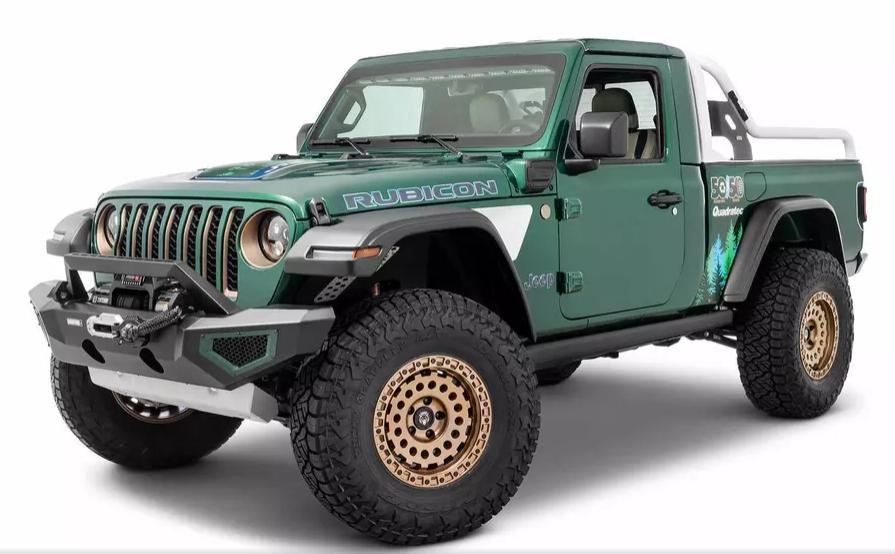 Project could be an addition to the factory Jeep Gladiator
For a long time, there was no serial pickup truck in the Jeep model range, but the situation changed a few years ago with the release of the Gladiator model. True, the light truck from the American automaker is only available with a two-row cab. For those in need of a more compact pickup truck with a two-seat interior, a project presented at the SEMA tuning show in Las Vegas, from a large seller of parts and accessories Quadratec, may be the way out.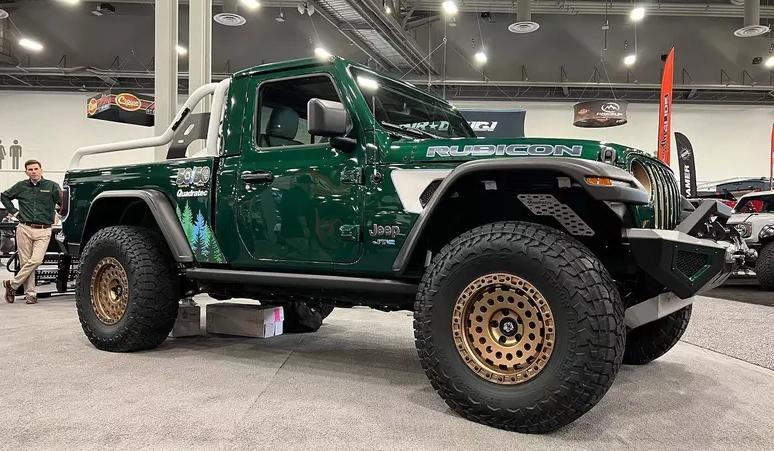 Atelier Unofficial Use Only and its founder Greg Henderson, who specializes in finalizing cars of the American brand, as a gift for the 30th anniversary of Quadratec, based on the Jeep Wrangler 4Xe Rubicon hybrid SUV, created a unique Jeep Wrangler JTe pickup truck. The SUV up to the B-pillar remained standard, and the rear of the car was seriously redesigned – regular elements were replaced by a cargo compartment from a Jeep Wrangler and panels from the Mopar catalog, which increased the length of the compartment by more than 30 centimeters.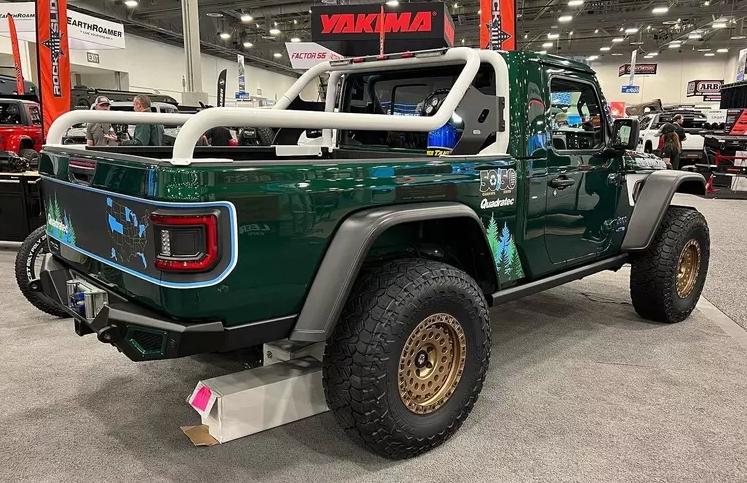 In addition, the car, painted in an exclusive dark green color, received a Carnivore power kit, bronze-colored 17-inch Lynx TrailGunner wheels with Nitto Recon Grappler off-road tires. Technical improvements include a suspension lift kit – a 380-horsepower hybrid power plant based on a 2.0-liter gasoline turbo engine, an 8-speed automatic transmission, an electric motor and a 17 kilowatt-hour battery remained standard.
The Wrangler JTe equipment includes a winch, additional LED lighting, mounts for canisters and jacks, and a tent. Inside, there are new Katzkin 4Xe seats, floor mats and additional storage space for small items. The car will be made in a single copy – the Quadratec studio plans to use the Jeep Wrangler JTe together with the non-profit organization Tread Lightly! in the 50-for-50 Trail Clean Up Initiative charity project to clean up roads in the United States.