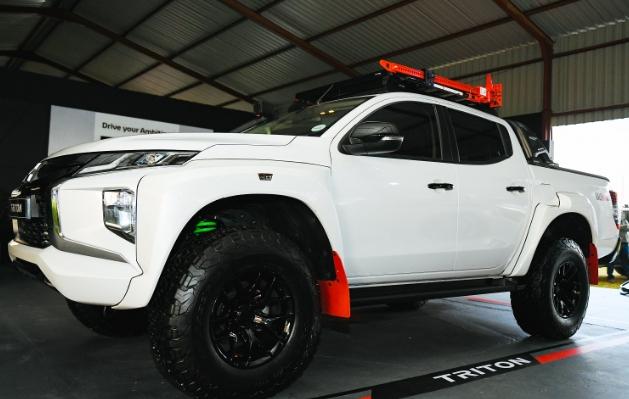 The collaborative model with Arctic Trucks has not yet received production approval, but there is a possibility of it materializing if approval is granted.
A collaborative project between the three diamonds and Iceland's Arctic Trucks, whose joint venture product with Isuzu, the D-Max AT35, the aptly named Triton AT35, for now, has been billed as nothing but a prototype.
The purpose of bundu-bashing
If production approval is granted, the Triton AT35 is expected to replace the current Triton Xtreme as the flagship model in the local lineup. The AT35 variant boasts several aesthetic enhancements compared to the standard model, including:
a wider track, an Iron Man suspension,
lift-kit,
revised springs,
and extended wheel arches to accommodate the 35-inch BF Goodrich all-terrain tires mounted on Arctic Trucks' specific 17-inch alloy wheels.
Furthermore, Mitsubishi has made several modifications to the Triton AT35. These include:
a redesigned front bumper,
the addition of side-steps and a snorkel,
as well as the inclusion of a Keko tonneau cover.
The vehicle is equipped with a specialized roof rack that comes with a pump-action heavy lift jack and spade, a Keko style bar, Ralliart side decals and mudflaps, and a rubberized loadbin.
Inside the Triton AT35, you'll find a range of subtle changes. These include:
Ralliart branded floor mats,
stylish stitching on the leather seats,
and the addition of a seven-inch Sony touchscreen infotainment system.
These interior enhancements add a touch of refinement and convenience to the overall driving experience.
As is power
Beneath the bonnet, the Triton AT35 retains its powerful 2.4 DI-D turbodiesel engine, which generates an unchanged output of 133kW/430Nm. This power is seamlessly transmitted to either the rear wheels or all four wheels through a reliable six-speed automatic gearbox. The drivetrain remains capable and efficient, ensuring a dynamic driving performance in various conditions.
Like the standard Triton model, the AT35 variant comes equipped with Mitsubishi's SuperSelect II four-wheel-drive system and a rear differential lock. However, due to the inclusion of a lift-kit and enhanced suspension, the AT35 boasts an increased ground clearance of 35 mm, raising it from 220 mm to 255 mm. This elevated clearance ensures improved off-road capability and allows the vehicle to navigate challenging terrains with greater ease.
"Mitsubishi vehicles have a well-established reputation for durability. Therefore, we prioritize partnering with reputable suppliers who can enhance our models in a way that complements their original equipment and character while maintaining the dependability and reliability that our customers expect," commented Jeffrey Allison, General Marketing Manager at Mitsubishi Motors South Africa.
Production no-no for now
While the production status of the Triton AT35 is yet to be determined, Mitsubishi is considering its potential. If given the green light, further details are anticipated to be unveiled before the year concludes.