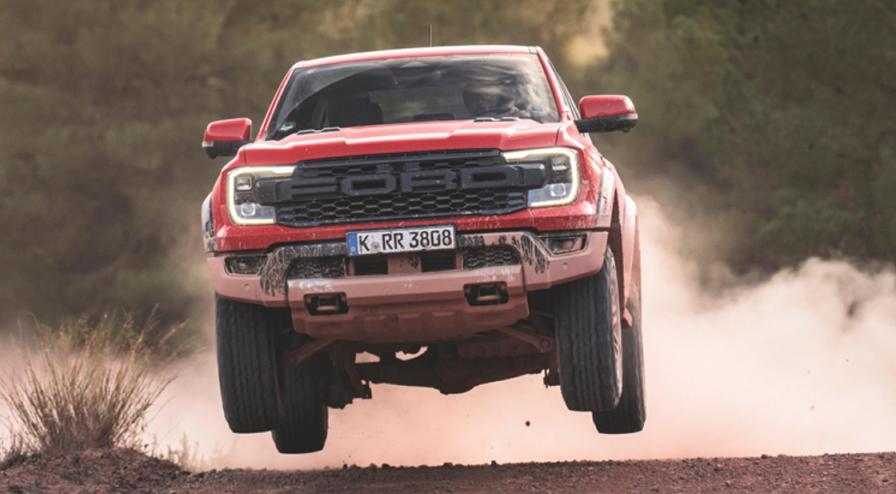 Arguably the most utilitarian and adaptable category of vehicles, the double cab 4×4 mid-size pick-up truck has earned a reputation for its robust endurance across challenging landscapes, impressive hauling and off-road capabilities, and efficient turbo-diesel powertrains.
Excelling in environments ranging from the wilderness and construction sites to farms, expedition routes, and even battlegrounds, these trucks have also transformed into comfortable, practical daily commuters with abundant space, features, and technology. Nonetheless, standard models offer ample room for customization to unlock their full potential across various uses.
Ford Ranger Raptor
The eagerly anticipated second-generation high-performance Ranger Raptor off-road pick-up, a sibling to the iconic Ford F150 Raptor full-size model, made its debut in 2022. With enhanced power, capabilities, and technological features, this Baja-style desert truck is a creation of Ford Performance. Sporting a sleek yet rugged design that exudes a sense of controlled aggression, the Raptor seems poised to tackle challenges head-on. Additionally, it boasts an ample 271mm ground clearance, optimized off-road angles, and larger 285/70R17 off-road tires.
Replacing its predecessor's 4-cylinder engine, the latest Ranger Raptor now houses a twin-turbo 3-liter V6 petrol engine. This upgrade results in an impressive power increase, reaching 405BHP at 5,750rpm, accompanied by a torque of 430lb/ft at 3,250rpm.
This formidable power is channeled to all four wheels through a 10-speed automatic gearbox, establishing the new Ranger Raptor as a high-performance off-road powerhouse. With the capability to accelerate from 0 to 100km/h in a mere 6 seconds, the Ranger Raptor is equipped with electronically controlled front and rear differential locks, as well as low gear ratios, to enhance its off-road prowess.
Combining robust construction with a smooth ride, the Ranger Raptor showcases a double wishbone front suspension and a trailing arm live-axle with coil spring rear suspension. This setup improves both handling and comfort while amplifying off-road capabilities.
The vehicle is equipped with Fox-produced dampers that incorporate an internal bypass system, guarding against impacts during airborne moments. These dampers deliver a balance of comfort and control, whether on pavement or off-road terrain. The Ranger Raptor boasts seven distinct driving modes to adapt to diverse conditions, alongside four exhaust modes ranging from mild to wild.
Technical Specifications
Engine: Twin-turbocharged 3-liter V6 cylinders
Transmission: 10-speed automatic, four-wheel drive
Power, Horsepower (PS) [kW]: 405 (410) [302] @ 5,750
Torque, Pound-Feet (Nm): 430 (583) @ 3,250
0-100km/h Acceleration: 6 seconds
Length: 5,357mm
Width: 2,027mm
Height: 1,928mm
Wheelbase: 3,269mm
Ground Clearance: Minimum 271mm
Approach / Break-over / Departure Angles: 33° / 24.2° / 26.4°
Weight: 2,415kg
Payload Capacity: 640kg
Suspension, Front / Rear: Double wishbone / Watts-link
Tire Size: 285/70R17
Toyota Hilux Arctic Trucks AT44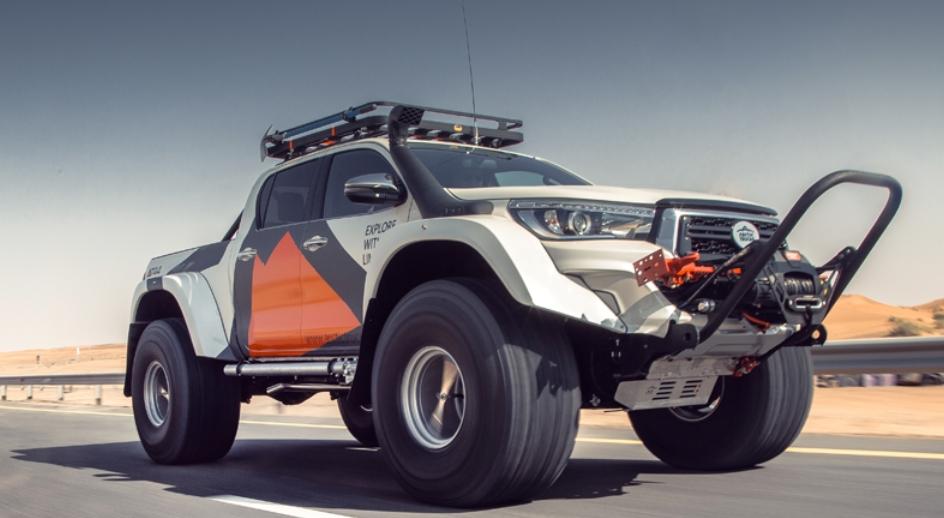 A preferred mid-size pick-up for numerous individuals, the Toyota Hilux is celebrated for its enduring reliability and has achieved notoriety as a civilian vehicle that has frequently been repurposed for combat use by diverse groups and even formal military forces. In its current eighth-generation iteration introduced around 2016, the Hilux lineup has not seen substantial factory modifications. However, it once again takes the spotlight as the prominent choice within the range of Arctic Trucks' customized pick-up and SUV lineup.
Offered in various levels of modification, the Hilux AT44 represents the pinnacle of this range, having previously been available in a significantly altered six-wheel-drive configuration for challenging polar expeditions in earlier generations. Running on Toyota's standard 3-liter four-cylinder turbo-diesel engine, the AT44 generates 169BHP and 265lb/ft of torque. Notable features include a snorkel intake for water fording, as well as lockable front and rear differentials and low gear ratios, all contributing to reliable traction on slippery terrains.
Engineered to excel during extensive and challenging snow expeditions, while also proving its mettle in desert environments, the AT44 boasts a broader track and increased ride height compared to the standard Hilux. This enhancement is attributed to its utilization of massive, low-pressure off-road tires. These tires necessitate considerably larger and more pronounced wheel arches, and their substantial footprint ensures superb flotation over both snow and sand. Adding to its capabilities, the AT44 includes a substantial 280-liter fuel tank, complemented by the option to add an additional 800 liters through deck-top and trailer tanks.
Technical Specifications
Engine: 3-liter turbo-diesel V6 cylinders
Transmission: 5-speed automatic, four-wheel drive
Power, Horsepower (PS) [kW]: 169 (171) [126]
Torque, Pound-Feet (Nm): 265 (360)
Fuel Capacity: 280 liters
Length: 5,255mm
Width: 2,160mm
Height: 2,000mm
Wheelbase: 3,125mm
Ground Clearance: Maximum 300mm
Weight: Estimated 2,250kg
Payload Capacity: 1,000kg
Suspension, Front / Rear: Double wishbone / Live axle
Tire Size: 44×18.5/15