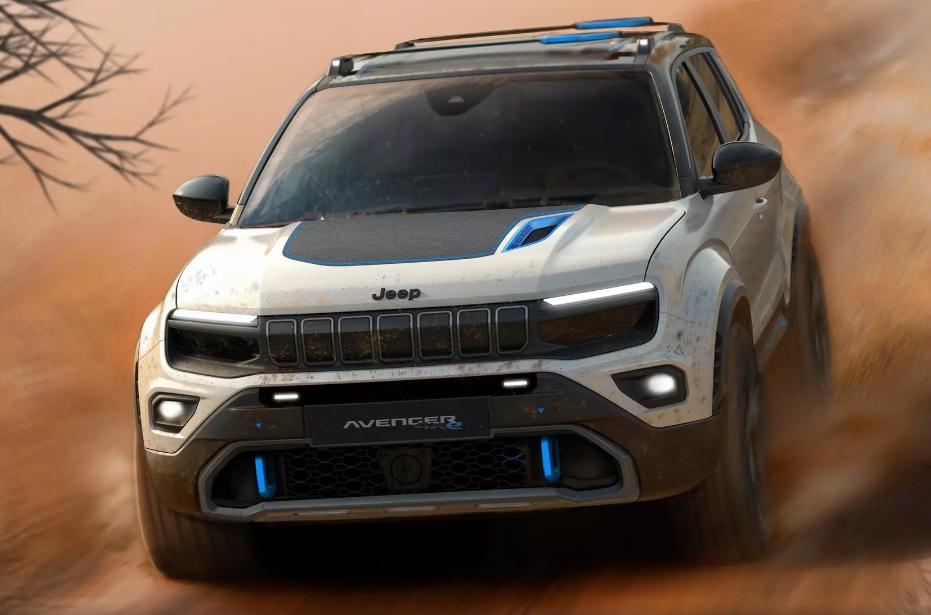 The all-wheel drive version of the Jeep Avenger electric crossover debuted at the Paris Motor Show. While this is a concept, but in the future they promise to add it to the range of the model. The SUV is distinguished by a twin-engine power plant, a more aggressive body kit, additional lighting equipment and a roof rack.
There is not much information about the prototype yet, but the conventional electric Avenger has already been completely declassified. Its start of sales is scheduled for March 2023.
Simultaneously with the production Jeep Avenger electric crossover, the Avenger 4×4 Concept debuted in Paris. This is an all-wheel drive version of the model, which will be added to the range in the near future. Apparently, such a subcompact has two electric motors (one for each axle), although the differences from the regular Avenger do not end there.
The all-wheel drive Avenger received visible towing eyes, a wider track and new wheels. On paper, the geometric cross-country ability has also become better. Ground clearance is no longer 200, but "more than 200 millimeters." The angles of entry, exit and ramp are 21, 34 and 20 degrees, respectively. At the same time, the numbers for the monodrive Avenger are as follows: 20, 32 and 20.
Additional "LED spotlights" appeared in the front bumper of the concept, and a new lightweight roof rack with scratch protection appeared on the roof. In addition, the protective lining is reinforced at the front, although the polymer plates under the bottom here are most likely the same as in the production Avenger.
The crossover is built on the STLA Small platform (eCMP) and is equipped with one Emotors electric motor (a joint venture between Stellantis and the Japanese Nidec) with a return of 156 horsepower and 260 Nm of torque. The cruising range without recharging according to the WLTP cycle is 400 kilometers. But in the city you can allegedly drive all 550.