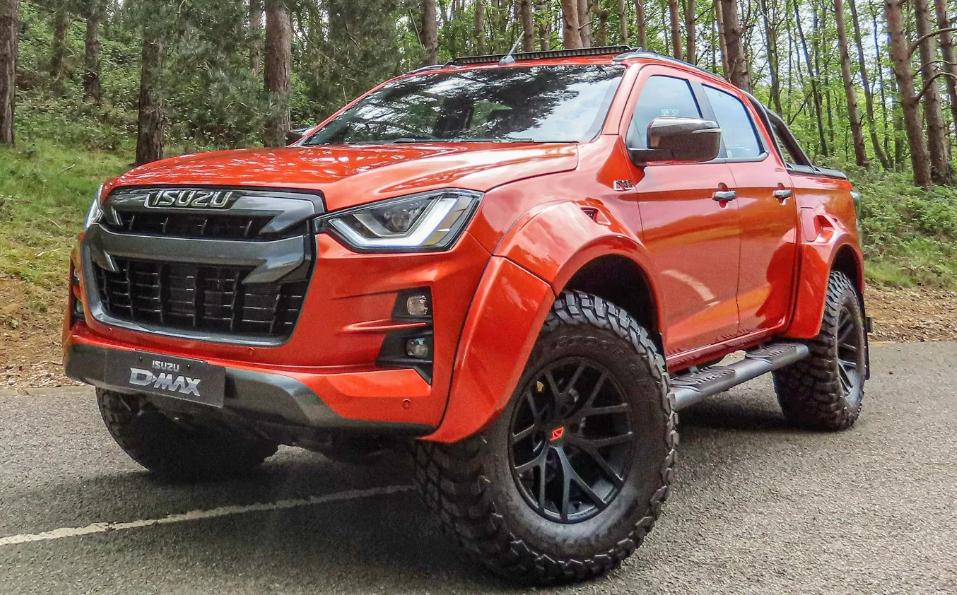 After taking a brief drive in the Isuzu D-Max AT35 modified by Arctic Trucks, we can say that there are certainly many attractive features, but a few modifications could make it truly exceptional.
The Isuzu D-Max AT35 by Arctic Trucks is not just a standard D-Max as its suspension has been raised by 50mm and it has been widened to accommodate 315/70 knobbly tires. This makes the AT35 an imposing presence on the road and it takes up more space than a regular D-Max, extending to the very edge of a parking space.
The purpose of this D-Max variant is quite clear from its rugged appearance; it is meant to tackle any challenge thrown at it, be it crossing tundra or scaling mountains. In essence, if you aim it at anything, it should conquer it without breaking a sweat.
The name "Arctic Trucks" is not just a marketing gimmick – it is actually a company that played a role in creating this formidable off-road vehicle. In fact, the company has a track record of modifying various vehicle models for extreme conditions, ranging from driving on a volcano to traversing the North Pole.
Shall we discover if the most extreme variant of the Isuzu D-Max is what we've been missing out on? Let's take a look. In the UK market, there is only one engine option for the D-Max Arctic Trucks, making the selection process straightforward. This engine is a 121kW 1.9-liter turbocharged diesel. While it may not sound like much power for the size of the AT35, it is sufficient to provide a maximum payload weight of 1045kg (1075kg with the manual transmission) and the capability to tow up to 3500kg.
At low speeds or from a stationary position, the Arctic Trucks has ample torque and accelerates well, but it loses momentum rapidly. This is especially noticeable as the speed increases, particularly when you want to quickly accelerate and all you get is a lot of engine noise without much gain in speed.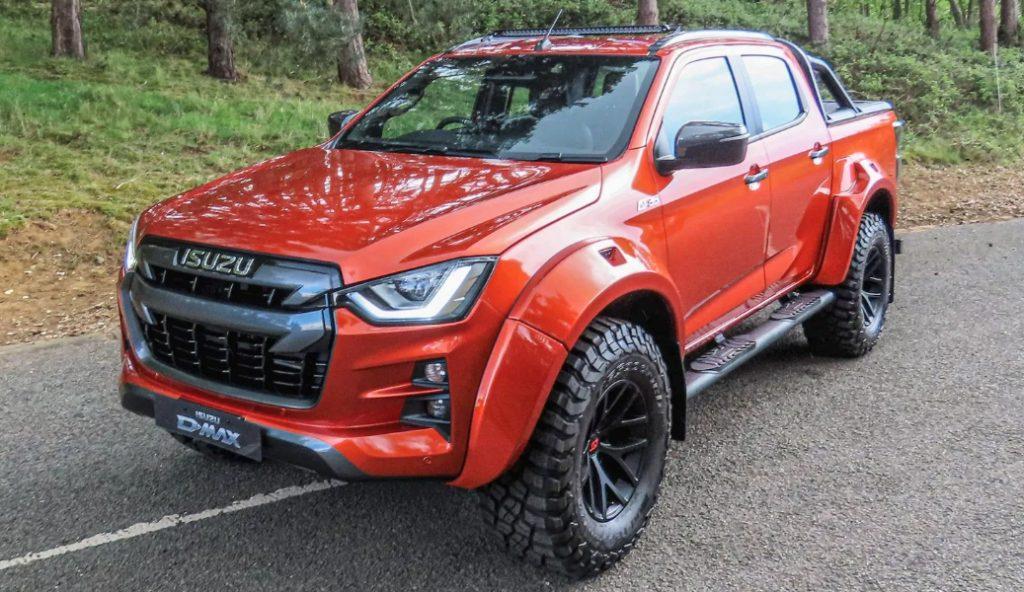 The diesel engine powering the D-Max Arctic Trucks is quite rough, to put it mildly. It produces constant noise, even when idling or cruising. At higher speeds, wind noise can be a problem, but the large tyres surprisingly don't contribute much to the road noise.
While driving the Isuzu D-Max Arctic Trucks, you'll notice a feeling of discomfort, like a "fish out of water" sensation. The big knobbly tires aren't meant for everyday trips or highway drives, making for a less-than-smooth ride. Even on smooth roads, there is a continuous fidget that moves you from side to side in your seat.
If you're mostly driving on roads, the Ranger is a more comfortable and smooth option than the standard D-Max, although this also applies to a lesser extent to the AT35.
Despite its height, one might anticipate the D-Max Arctic Trucks to be unstable on winding country roads. However, that is not the case thanks to its unique Bilstein suspension, which provides a fairly firm ride that results in surprisingly good body control and reduced lean when driving through corners.
However, the D-Max Arctic Trucks' steering doesn't inspire much confidence, as it doesn't provide a clear idea of what's happening, making it less suitable for enthusiastic driving. The Ranger, on the other hand, offers more precise steering and is less affected by bumps in the middle of a turn.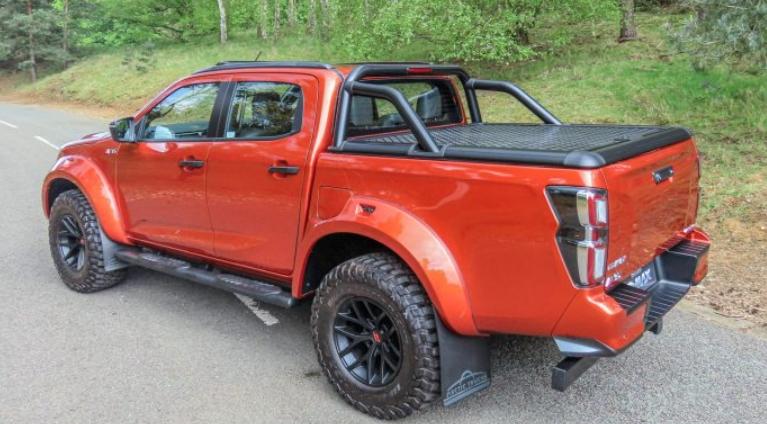 The true strength of the Arctic Trucks D-Max lies in off-road driving, where its 266mm front clearance and 290mm rear clearance allow it to tackle rough terrain with ease. Additionally, with a 35-degree approach angle, 29-degree departure angle, and 34-degree breakover angle, it has the ability to overcome almost any obstacle that comes its way.
The Arctic Trucks version of the D-Max is equipped with an extensive list of off-road features, including a switchable two and all-wheel-drive mode, low and high-range gears, a locking rear diff, and hill-descent control. With a 35-degree approach angle, 29-degree departure angle, and 34-degree breakover angle, it can conquer rough terrain with ease. These features are so impressive that it's unlikely you'll ever fully explore the vehicle's limits unless you take it to the middle of nowhere or on to a glacier.
The D-Max Arctic Trucks offers a commanding driving position, which will appeal to those who like sitting high above the road. The electrically adjustable driver's seat provides ample movement, and the powered lumbar support helps to ensure your comfort. However, the seats themselves are not very comfortable for long journeys because the base lacks sufficient padding.
Having a high driving position gives you excellent visibility from all angles, and the large door mirrors help you to keep a close watch on the rear wheel arches in relation to obstacles. Although the size of the truck may seem intimidating at first, it becomes easier to control and maneuver once you get used to it. However, since it's quite long, the front and rear parking sensors, as well as the rear-view camera, come in handy when parking.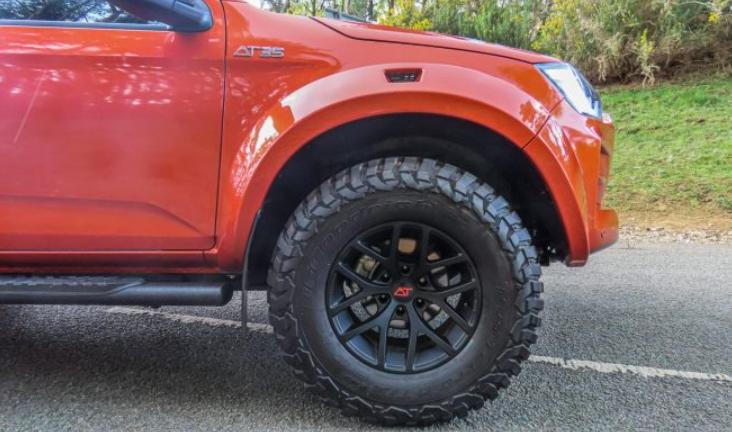 Visibility remains excellent even in total darkness, thanks to the LED headlights and fog lights that come as standard. One of the highlights of the vehicle is the optional LED light bar, which is incredibly bright and almost comical in its intensity, but it provides a sense of security when you are far away from civilization.
Interior space remains largely unchanged from the standard D-Max, as the Arctic Trucks version shares the same structure. The front offers generous space with ample head and legroom, but the rear is not particularly spacious.
The D-Max excels at carrying cargo, with its 1495mm bed that can accommodate a standard pallet lengthways between the wheelarch intrusions. The bed also features four tie-down hoops, one at each corner, and a damped tailgate for effortless opening. Additionally, the rear bumper has a step that can be used to reach over the sides and access anything in the bed of the truck.
The Isuzu D-Max Arctic Trucks AT35 is more than just a showy truck; it is as capable as its rugged exterior implies. However, unless you frequently push yourself and your vehicle off-road, it may be difficult to fully test its capabilities.
In addition to its impressive off-road capabilities, the Isuzu D-Max Arctic Trucks AT35 also boasts exceptional carrying and towing capacities, putting it at the forefront of its class. However, the Ford Ranger Raptor, with its more potent V6 twin-turbo engine and enhanced Fox dampers, is currently the top choice among rugged, off-road-capable utes. Although, the Nissan Navara is a close rival to the AT35, and given the Raptor's higher price tag, the AT35 may be a suitable option for Isuzu enthusiasts and those seeking a more capable off-road ute, especially if it came equipped with the superior 3.0-litre turbo diesel engine.